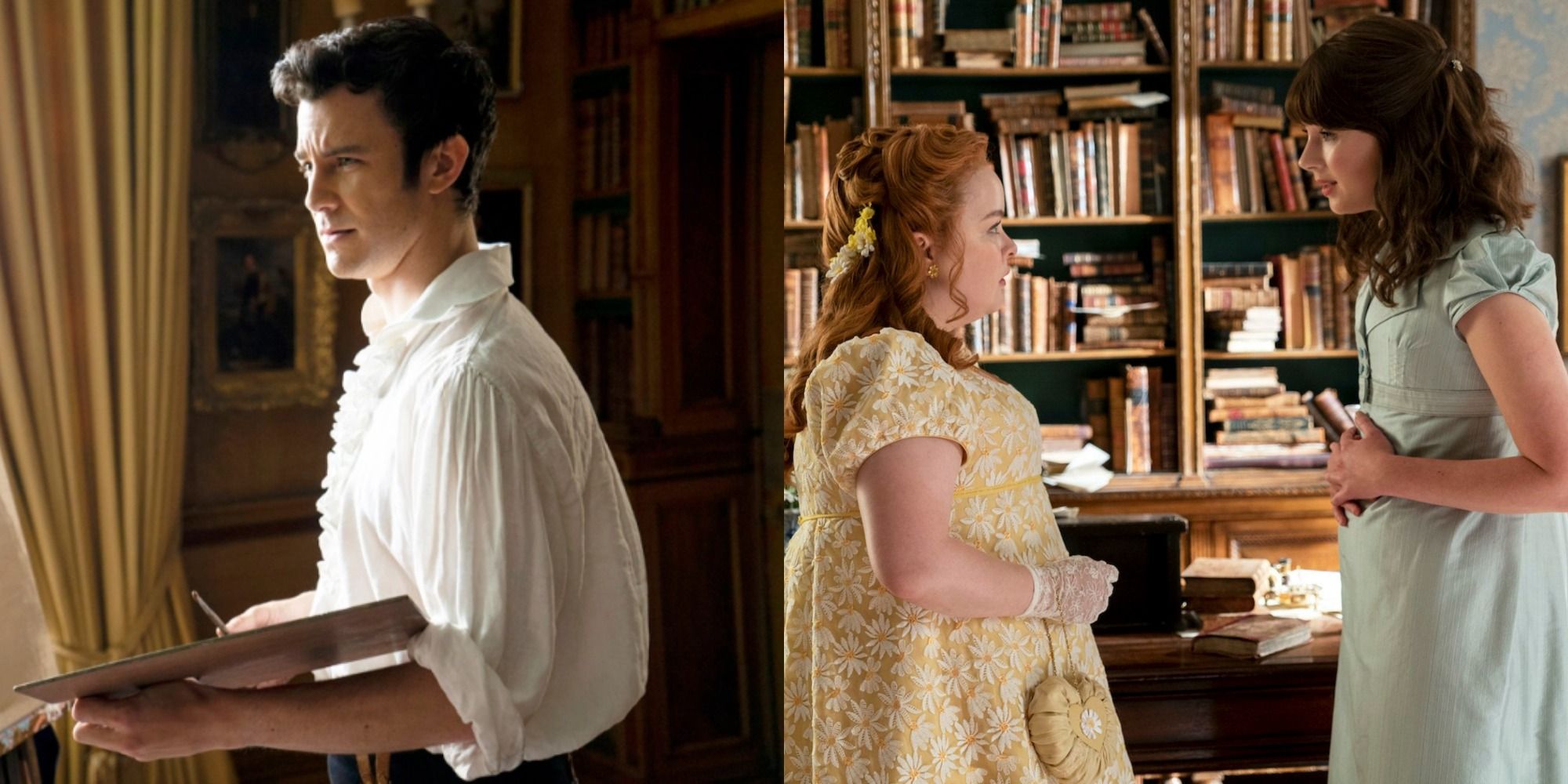 4 Characters Who Got Too Much Screen Time In Season 2 (& 6 Who Deserve More In Season 3)
Bridgerton finally launched its long-awaited second season last Friday, and fans immediately jumped on it. After all, the series' second effort follows the fan-favorite story of Anthony and Kate, aka Kanthony, arguably the show's most fan-loved couple. Bridgerton series of books.
RELATED: Bridgerton's 10 Most Popular Actors, Ranked By Instagram Followers
While Season 2 focused firmly on Kate and Anthony, several characters received considerable, perhaps too much, attention, leading fans to wish they had been featured less. On the other hand, a few interesting characters have had their bit of a stick, but hopefully they'll have more to do in Season 3.
Too much screen time
Prudence Plumeton
Featherington's primary role in the series is to be intriguing and boring. Prudence excels in the latter but fails miserably in the former, turning her into an annoying one-note character. It doesn't help that she spends all of her time surrounded by infinitely more interesting characters, including her mother, cousin, and younger sister.
With Philippa already married, it's time to find another situation for Prudence and take her out of the equation. Season 2 proved she didn't have a lot of meat, so Season 3 should use all the time she has and devote it to other, more worthy characters.
queen charlotte
Queen Charlotte is primarily an entertaining character who provides witty and pointed commentary on the show's many romantic entanglements. Still, his shtick becomes uninteresting after a while, especially when Bridgerton presents it as tasteless and easily foiled by a sixteen-year-old girl with a feather.
RELATED: Bridgerton's Main Characters And Their Game Of Thrones Counterparts
There's a ton of potential with Queen Charlotte, one of the series' few real-life figures. However, should Bridgerton insisting that she act like a high school girl obsessed with the latest gossip rather than a top player in the London matchmaking game, it might be best to limit her appearances in Season 3.
Colin Bridgerton
Sweet but inconsequential, Colin Bridgerton might be the most annoying character in Bridgerton. Season 1 has him easily manipulated by Marina, for whom he still longs for Season 2. By the time he visits her and tries to reminisce about their doomed engagement, even she grows weary of his notions of doom. schoolboy love.
Compared to the high-stakes romance at the center of each season, Colin's storylines seem all the more pointless. Season 3 should keep his appearances to a minimum, allowing fans to miss him before he inevitably hits the stage in Season 4.
Eloise Bridgerton
A highlight of season 1, Eloise was BridgertonRegency London's resident feminist icon, a maverick young woman defying the social rules of Regency London. However, Eloise isn't as fresh or smart in the show's second season, and at times she even seems out of place.
Eloise remains likeable and interesting, but her storylines are erratic at best. The series refuses to get into the equal rights storyline and takes a totally unnecessary detour by introducing a bland love interest that it doesn't fully commit to, surely for fear of alienating book fans who love it. are waiting to see Eloise with Sir Phillip. Crane. After a stellar season 1 and a disappointing season 2, maybe it's time to put Eloise in the backseat for season 3.
Deserve more in Season 3
King George III
George III was King of Great Britain and Ireland from 1760 until their union in 1801, becoming King of the United Kingdom. His reign, which lasted until his death in 1820, was marred by numerous military conflicts, including the loss of the United Kingdom's American colonies during the American Revolutionary War and the war against Napoleonic France.
Additionally, George faced mental illness at the end of his life, the so-called "King George's madness". In one of Season 2's most poignant scenes, Bridgerton briefly touches on the King's sanity without going any further. Considering it's a real person with a compelling story, the show could deliver on that, especially since recent projects like hamilton reduces it to a quasi-caricature.
Will Mondrich
Will was one of the most compelling characters in Bridgerton season 1, a boxer who makes a shady deal with Baron Featherington to secure a future for his family. Back in Season 2, Will now has his own club but struggles to secure the wealthy clientele he pursues.
Despite becoming a season 2 regular, Will has almost nothing to do, appearing sporadically to shed light on new Baron Featherington's plans. Season 3 needs to bring him back and give him a real role other than standing in an empty bar looking disappointed.
Daphne Bridgerton
Daphne was Bridgertonde facto throughout Season 1, his Season's Diamond. Her romance with the Duke was engaging, but she takes a step back in Season 2 in favor of Anthony and Kate's story.
Thanks to her wit and observational patterns, Daphne is one of the most intelligent characters on the show. She correctly guesses Anthony's feelings for Kate and spends the entire season trying to reason with him. Daphne Bridgerton can be somewhat infuriating, but she's also one of the show's most intriguing and intelligent characters. So she could prove useful next season, especially considering how clueless and passive Benedict seems.
Portia, Baroness Featherington
Baroness Featherington was one of the most frustrating characters in Bridgerton season 1. She remains difficult and antagonistic in season 2, but the series effectively uses her to create conflict away from the Bridgerton family's already complicated life.
The result is a much more compelling and entertaining version of Portia that even wins audience sympathy by the end of the season. Season 3 should continue to use her as a contrarian figure to the more traditional Bridgertons, though it would also be very intriguing to see her react to Penelope's Whistledown turmoil.
Penelope Featherton
Lady Whistledown herself is arguably the show's most intriguing and compelling character outside of the season's titular couple. Equally interesting is her alter-ego, Penelope, the seemingly sweet and unassuming youngest daughter of the Featherington family, and it's time the show gave her the attention she deserves.
RELATED: 10 Most Memorable Bridgerton Quotes
Penelope's whole thing so far is pining for Colin Bridgerton vanilla and serving as Eloise's confidante, but there's so much more to her than meets the eye. Season 2 digs deeper into how Penelope runs her Whistledown schedule, but that's not enough. Season 3 should focus more on his ambitions and identity outside of Whistledown; she has proven herself to be a capable writer, maybe she could pursue a career in literature? It's time for Penelope to take center stage; the show would be much better.
Benoit Bridgerton
In all honesty, Benedict Bridgerton is far from the best character in Bridgerton. His storyline is tedious at times and his characterization somewhat inconsistent; season 1 introduced him as a sweet and supportive young man before season 2 transformed him into a charming libertine.
The third book in the series by Julia Quinn, An offer from a gentleman, focuses on Benoît's relationship with new character Sophie, a Cinderella-like figure who literally runs away from a ball. Season 3 should therefore focus on Benedict, and the extra screentime could help flesh out his character. Unlike Daphne or Anthony, Benedict remains two-dimensional, and if he wants to move on to the main storyline, he needs more substance than the show previously allowed.
NEXT: 10 Best Books For Bridgerton Fans To Read
Halo: Why the Reveal of Master Chief's Face Shocks Players
About the Author