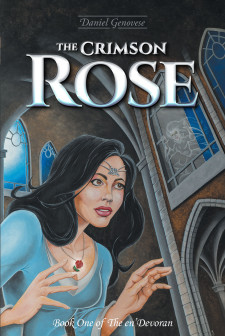 Author Daniel Genovese's new book, "The Crimson Rose" is an exciting royal fantasy fiction novel about the trials and tribulations of Queen Felanya de Devora
Daniel Genovese, a New Jersey native currently residing in Georgia who received a degree in architecture from the University of Notre Dame, has completed his new book, "The Crimson Rose: Book One of the En'Devoran": A Fantastic Tale captivating and powerful detailing the reign of Queen Felanya.
Daniel writes: "Estevius got up from the soft confines of the chair and walked to the window. As his eyes roamed the city, admiring the long winding roads, the proud buildings of stone and wood, and the clumps of tall pines that flanked the Lady's three temples, Estevius understood why the Queen preferred this room. Far enough away from the day-to-day work of the house that not much could bother her here, she could let her guard down and be just Felanya the wife, not Felanya the queen. She could look at her city, her people, and see the wonderful whole instead of the myriads of little details that plagued any conscientious ruler: taxes, advice and complaints from a multitude of advisers who had their own personal agendas and desires. .
Published by Newman Springs Publishing, Daniel Genovese's enchanting tale details the trials and tribulations Queen Felanya faces as ruler of Devora. She started out undefeated in war and diplomacy. However, her winning streak collapses after her youngest daughter is involved in a tragic accident. Queen Felayna's healing powers are unable to heal her daughter's broken spirit. As a result, the queen falls into a depression, withdraws from everything and everyone. Due to the queen's neglect of her duties, her enemies can take control of Devora. The high council finds ways to siphon wealth and power from the throne. Missionaries, called Patrim, build a cathedral in honor of the Lord in the center of Devora, prompting Queen Felayna's subjects to follow them instead.
Everything changes when the queen gives birth to another daughter. This renews the queen's hope and brings her out of misery. She becomes determined to restore Devora to its former glory. However, this path will not be easy. Felayna's enemies attempt to destroy her by performing a forbidden ritual that sacrifices a gifted child, one of the Lady's chosen ones. As a war begins, her daughter who was in the accident, Etherea wakes up and has visions of murder and fire. Readers will find out if Queen Felayna will succeed in returning Devora to her former glory or if her enemies will ultimately destroy her.
Readers who wish to experience this spellbinding work can purchase "The Crimson Rose: Book One of the En'Devoran" in bookstores around the world, or online at Apple's iBooks Store, Amazon, or Barnes & Noble.
---
About Newman Springs Editions:
Newman Springs Publishing is a full-service publishing house for serious authors. Each title produced by Newman Springs Publishing undergoes all stages of the professional publishing process, including editing, layout, cover design, broadcast, distribution and advertising. All titles are available in e-book and print format. Newman Springs Publishing distributes to tens of thousands of outlets in North America and internationally. All manuscripts of all kinds are welcome to be submitted for review; if the manuscript meets the necessary criteria and is accepted for publication, Newman Springs Publishing will work closely with the author to bring the book to the retail market for a relatively inexpensive initial investment.
---
Source: Newman Springs Publishing