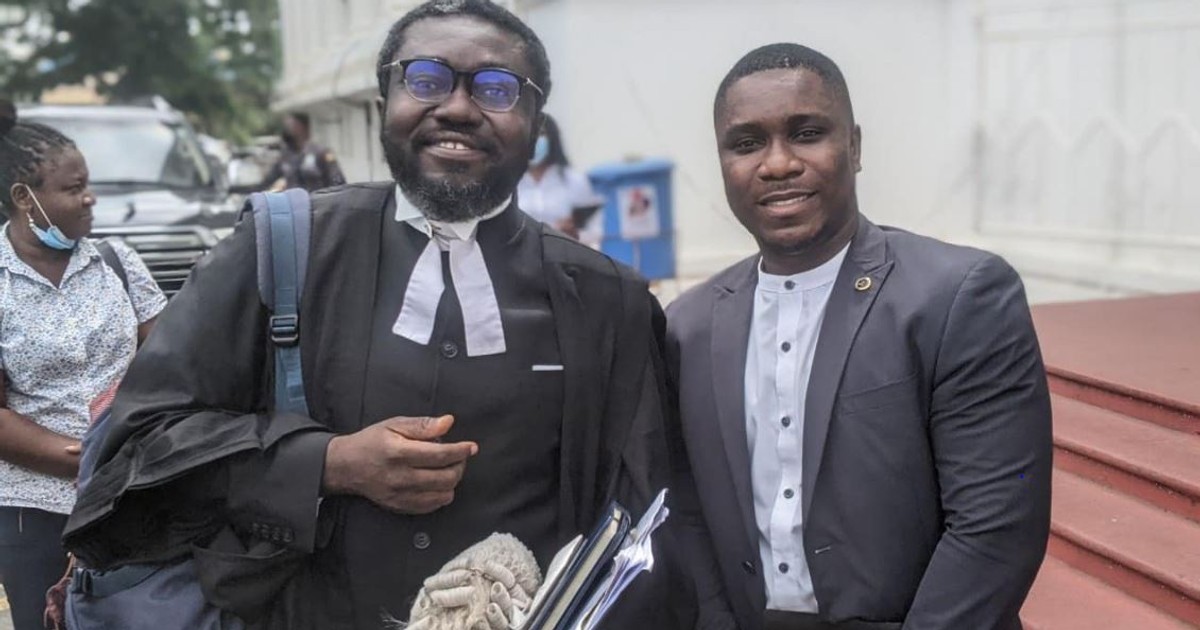 Barker-Vormawor details why 'Ghana Bar Association is a useless bar'
He went on to lament the way the association deliberately inserted clauses into its constitution to prevent young, dynamic lawyers from taking up leadership positions.
Read the full description below as posted by Barker-Vormawor on his Facebook page on Thursday, July 21, 2022.
Neho! What does the Ghana Bar Association do?
The tragedy of mediocrity is that it begins to feel normal.
Yesterday I took part in a conversation with the president of the Gambian bar. He spoke at length about the many ways he made sure the Gambian Bar was there to support social causes; and be a partner of activists. He was previously an organizer of GambiaDecided, a viral social movement that came together to oust Yahya Jammeh from power. Their JammehMustGo calls galvanized The Gambia and led to the fall of a dictatorship.
Then I heard from Nigerian activists talking about how the outgoing president of the Nigerian Bar Association was frontal about the Bar Association providing support for activism in Nigeria. They talked about how the Nigerian Bar was part of all the coalitions; provided pro bono representation to activists; has been a leader in mobilizing civil society against social injustices.
Then I thought of the Ghana Bar Association. I remembered when discussions of falling press freedom standards were raised. I then wondered why the Ghana Bar Association had not come out to issue a statement willing to offer pro bono representation to any journalist who felt attacked or had been attacked. Just show solidarity and make people see the Law Society as a partner in democratic reforms.
Then I thought about how 34 of the best-known CSOs came together to create Webcitizens, to push for democratic accountability. Who was missing? The Ghana Bar Association.
Nobody even noticed that they weren't part of the coalition.
I remembered how we as #FixTheCountry The legal team spearheaded this online petition calling on the Law Society to do better in defending and defending freedom and justice. [https://www.change.org/…/ghana-bar-association-ghana…]. It was widely covered.
Under the pressure of our petition, they finally came to release a tasteless statement about the techiman murders a year later. At one point I wondered why they didn't even apologize for the 1948 riots. They announced no call to action; pledged to do nothing and naturally fell back to sleep. You see how silent they are even with leaked exams at Ghana School of Law; or even in the ridiculous and immortal protocol admissions Maxwell Opoku Agyeman made to the School? They're just waiting Francis Xavier Sosu criticize the Judges; so they can descend on him.
For a while yesterday I contemplated finally joining the Bar Association just to run for president of the Ghana Bar Association. In this way, we can revive the Law Society as a leader in democratic accountability and a friend of democratic activism. Perhaps through this we could save our democracy, which has been brought dangerously close to demise.
But guess what, they have a rule that you have to be 15 years at the bar to be eligible to run for president. So institutionally they have created these positions for senior citizens who only see the Bar as an appendage to existing elite politics. They use it to energize their private law firms. They can tell clients that they are president of the bar; and clients will entrust cases to them because it makes people think they are top notch lawyers. It's a matter of the profit incentive. They can sit on shallow boards and shoot daily allowances that demand their conscience in return.
See, there's no reason why the Bar Association. should have all these ridiculous age restrictions to hold a leadership position at the Bar. It is a failure of thinking and ageism that has become woven into the fabric of a legal profession that seems wedded to the elite culture of the Victorian bar. And so they put in these unnecessary restrictions, so that by the time the person emerges to lead the bar, he or she is part of their social clique. The system would have produced a person acceptable to his conservatism and conformist culture.
The Ghana Bar Association is a useless bar.
It's no surprise that the only priorities now are printing bar stickers and bar ID cards so lawyers can avoid pesky MTTU cops. They don't care about police indiscipline on the roads. They just want to make sure the problem doesn't apply to them. To hell with the citizens.
Charley, Young Lawyers have a responsibility to fix the bar in Ghana. And it starts with capturing the Bar so it can be used as a vehicle for good.
It is time to amend the constitution of the Bar of Ghana to expel the catalysts of our broken politics. It is time to make the Ghana Bar Association the leading campaigning body in the service of democracy, rule of law and dissent.