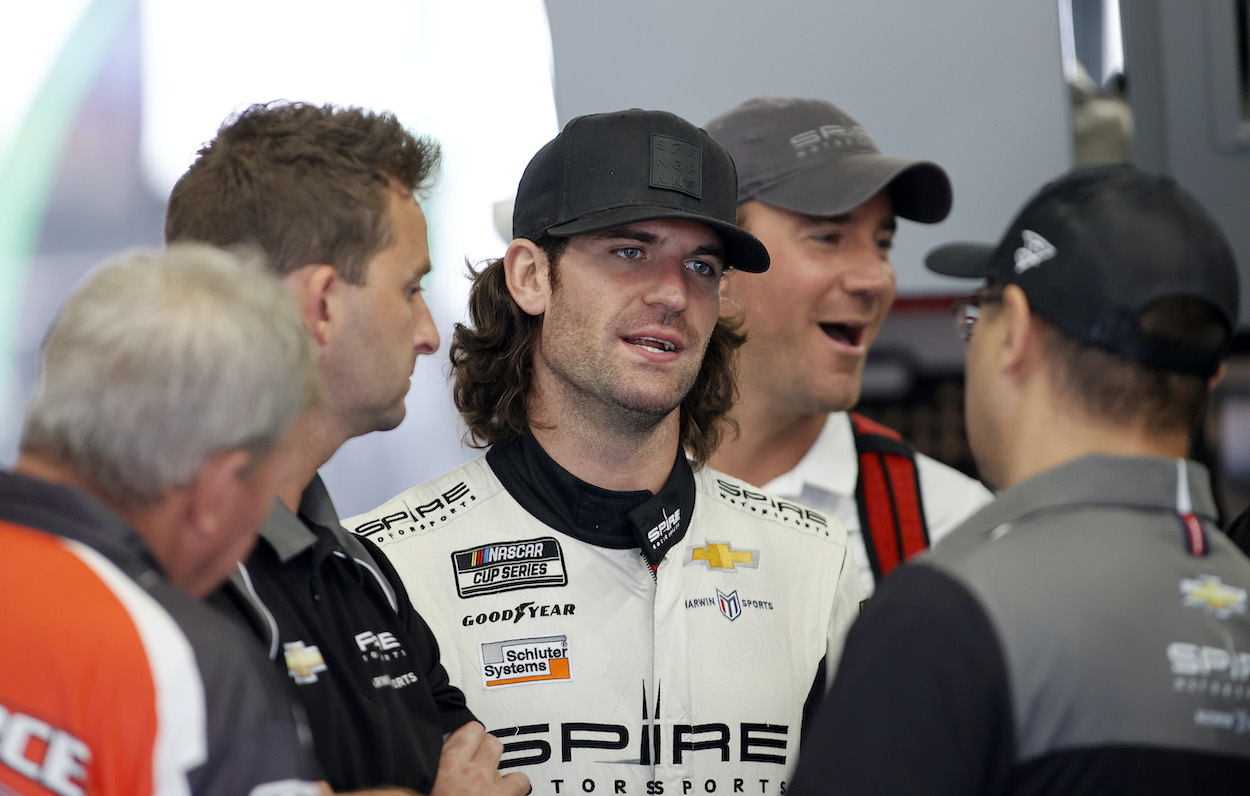 Confident Corey LaJoie reveals high expectations for Clash, 2022 season and knows which stadium NASCAR should go to in the future
Corey LaJoie has been openly optimistic about the 2022 NASCAR Cup Series season and the debut of the Next Gen car. That's what happens when your lap times in practice are much closer to big-name drivers and big-budget teams than they ever were in the Gen 6 car.
Unsurprisingly, the 30-year-old driver brings that confidence with him in the season-opening exhibition, the Clash at the Coliseum in Los Angeles. He expects a top performance from his team on Sunday.
Interestingly, LaJoie also knows that if this event succeeds as he hopes, it could lead to other opportunities to race at notable locations across the country. He has a specific stadium in mind.
Corey LaJoie Performs Well in Next Gen Car Tests
Corey LaJoie and the rest of the Cup Series drivers have heard and talked about the Next Gen car for years now. Throughout the car's development cycle, drivers performed tests at various tracks. The number of test drives increased significantly in the final months leading up to the car's debut.
LaJoie participated in several sessions, including Charlotte and Daytona. He posted a top 10 in practice at Daytona, but it was what happened in Charlotte in mid-December that opened his eyes.
On the first day of practice, he finished dead last out of 18 riders in a single session using the six-inch offset spoiler with a time of 30.743, more than a second behind Joey Logano. He moved up to 13th in the second round that first day.
On day 2 he improved significantly. In a test with the six-inch spoiler, it finished sixth ahead of Kurt Busch, Martin Truex Jr. and Chase Elliott. He replicated that effort impressively in the second session that day with the four-inch spoiler, finishing ninth overall.
High expectations for Clash and the 2022 season
After passing tests and realizing he had the speed to run with the big dogs, it's not at all surprising that the driver of car #7 is heading towards the LA Coliseum with confidence. It also doesn't hurt that he has short track experience, where he has had success, including a win at Bowman Gray Stadium, the only facility everyone compares to California's iconic venue.
The season-opening exhibition race is one thing. Racing competitively in points races when it counts is something completely different. The Spire Motorsports driver thinks it's possible in 2022.
"This is the best chance I've had in my Cup Series career, my Xfinity Series career, probably in the last decade, to be competitive and to race for, not even a win, just the top. 10, or just being competitive and rubbing wings with guys that I don't usually do," LaJoie told reporters.
Despite this optimism, he is also realistic.
"I'm confident now until we're really beaten into submission a few weeks into the year," he joked. "We always have realistic expectations, but the more time I spend on it, the more I run with the guys and gain respect, I keep telling myself, true, false or indifferent, I've paid the dues and I belong to the Series Cup."
LaJoie has a specific stadium in mind for future NASCAR racing
LaJoie, who saw her fan following increase with her Stack up pennies podcast, he was asked if the Clash at the Coliseum was a success, what stadium would he like to see NASCAR go to next. His quick response revealed that he had already thought about the question.
"I keep thinking about AT&T Stadium, home of the Dallas Cowboys," LaJoie said. "It all depends on the footprint, doesn't it. I don't know what the land footprint is and how big it is. It's a state-of-the-art facility there in Dallas.
It's an interesting idea. It has a retractable roof so that would be possible. Jerry Jones has hosted many major events here, including a Super Bowl, Final Four, and the college football national championship game. The 2015 Country Music Awards show was held there.
A combination of sporting events and country music in the past sounds like a NASCAR race will be held there in the future.
Like Sportscasting on Facebook. Follow us on twitter @sportscasting19.
RELATED: Corey LaJoie Fires NASCAR Cup Series Salvo: 'In 2022 We're Collecting'