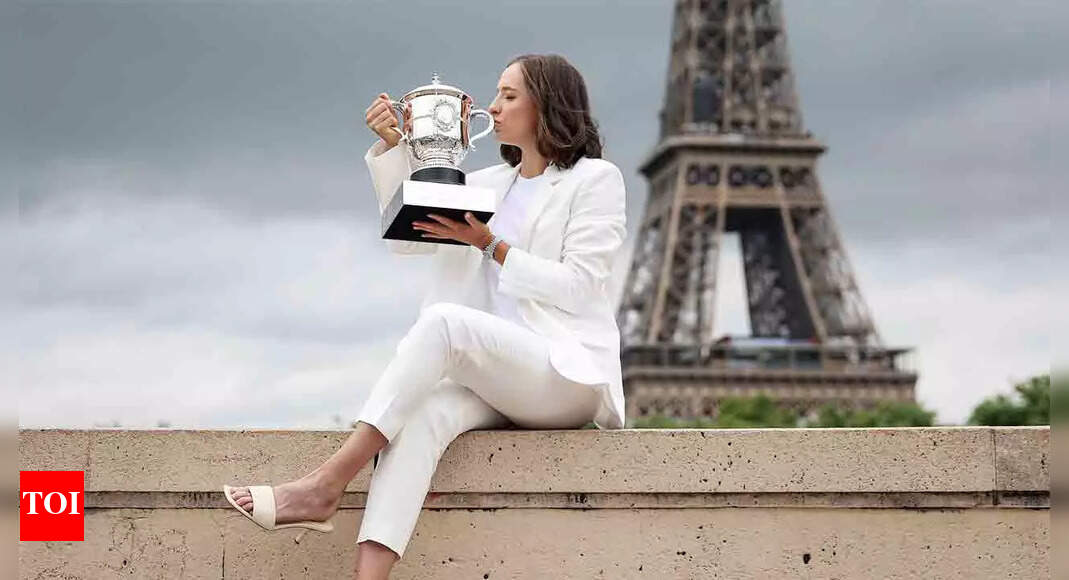 French Open: Keeping it simple is Iga Swiatek's mantra | Tennis News
Not getting over-analyzed is the hardest thing, says hot Pole
PARIS: Iga Swiatek was in full flight at Roland Garros this fortnight. Wings spread and soaring. Pressure? The wind under its wings perhaps.
Swiatek, the world No. 1 riding the hottest wave in tennis with 35 successive wins, the most in the women's game since 2000, has won titles in Doha, Indian Wells, Miami, Stuttgart, Rome and now the French Open in Paris. The 21-year-old, with a growing portfolio of endorsements, is the poster child for the skill.
Swiatek, who walked into a crowded press room in the Roland Garros slums, was not indifferent to the numbers, but the applause surprised her. "I felt the baggage," admitted Swiatek.
"The hardest part is not letting yourself be overanalyzed, not letting yourself think about all the numbers. I've been trying to do this for a few months now, these two weeks here have been harder, but I'm getting better by more and more. "
Swiatek may like to keep it simple, but that's also what she is – remarkably simple. Especially for a champion. Overthinking is the enemy. "I think a lot of players over-analyze. We treat these finals as something, that if we're going to lose our lives, it's bad," she said, adding: "All these great champions, they accept in somehow they can lose."
Swiatek met his idol Rafael Nadal for breakfast last year after the Spaniard lost in the French Open semi-final to rival Novak Djokovic. "I told Rafa that I cried all night because he lost," Swiatek said, "He was, like, 'Oh, it's just a tennis match, you know. You win , you lose. It's normal'. It's something not everyone can do, treat these great moments like another game. When Rafa or Novak play, they are just tennis players, practicing their sport."
The Pole arrived for her post-championship conference face cleansed except for the emotions which were running high. The look of a winner.
"I don't wear makeup because I don't feel obligated. I don't think it will change anything," Swiatek said. "Also, it'll come off when I use a towel. It's not on my PR file."
Swiatek has always insisted on consistency since she exploded onto the Roland Garros stage two years ago. "To get that 35th win (in the streak), to do something more than Serena (Williams), it's something special. I always wanted to have some kind of record. In tennis, it's quite difficult after Serena's career," Swiatek said. "Obviously winning a Grand Slam (makes me proud), but this one was pretty special because I felt like I did something that nobody had done (after 2000)."
The Pole was quick to point towards the net when asked if there were any areas in her game she could improve. "The turf is always tricky. I actually like the part where I have no expectations there," she said, adding that she would prepare for testing with coach Tomasz Wiktorows. "He has experience with Aga Radwanska, grass was his favorite surface. Maybe he will give me some advice."
"I'm going to have a little more fun playing on grass," promised Swiatek.