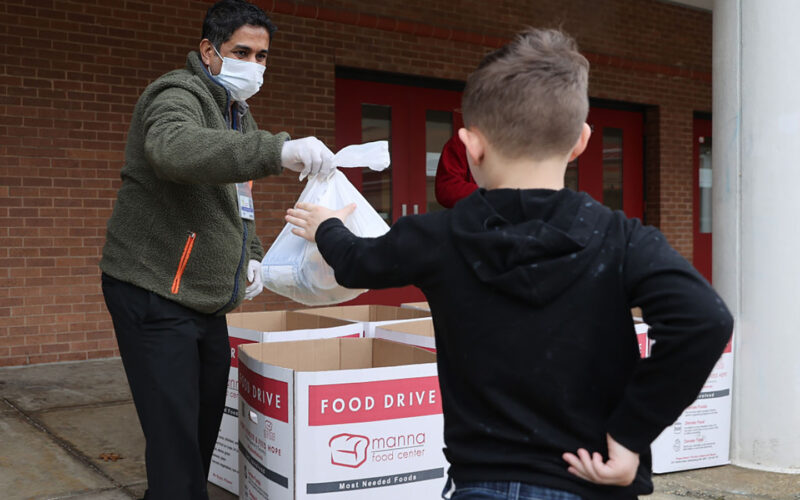 Now is the time for a new movement for children's rights – The 74
register here for The 74's daily newsletter. Donate here to support The 74's independent journalism.
Over the past three weeks, the United States has seen babies starve to death due to a nationwide shortage of infant formula and young students murdered in their elementary school. If you believe these atrocities will trigger an all-encompassing moral or political response from our elected federal leaders, you are mistaken.
Even if Congress acts, a neutral bill, fragmented by venomous partisanship and special interests and addressing the symptoms of a single problem, will do little to change the status quo for America's children.
At best, the framework envisioned in the Senate in response to the mass murder at Robb Elementary School is an incrementalism that does not fit the moment. Dramatic social and cultural change that mobilizes and sustains the nation's collective consciousness on youth issues is needed.
The time has come for a new independent coalition focused exclusively on expanding and protecting children's rights.
Youth rights as a movement is not a new idea. In 1836, Massachusetts passed the first child labor law that required at least three months of schooling per year for factory workers under 15. This has led to campaigns focusing on freedom of expression, preventing violence and abuse, expanding privacy and creating equitable rights. academic opportunities.
But this precipice of history demands more. While this month is particularly gruesome, the savagery that has hit America's children recently is a microcosm of the dissonance between federal leaders' alleged commitment to children and the real lives of children.
Need proof? Look no further than the decade of inconsequential responses to crises and trends that have terribly affected children's ability to play, learn and thrive.
In 2012, 20 kindergarten students at Sandy Hook Elementary School were murdered in their classrooms. No significant federal gun control legislation was passed in the decade that followed. In 2020, according to the Centers for Disease Control and Prevention, firearm-related injuries became the leading cause of death among children aged 1 to 19.
In 2014, 9,000 children were exposed to lead-contaminated drinking water in Flint, Michigan. It took two years and a federal court order to ensure that every child in Flint had constant access to safe drinking water. Until then, it was up to each family to find the water themselves.
In 2015, according to a Pew study, 62% of parents of infants or young children, regardless of income level, found it difficult to find affordable, quality child care in their community. As of 2021, families with infants or preschoolers are expected to spend, on average, about $16,000 per year to cover child care costs; that's more than 20% of the median US income for a family of three.
In 2016, Larry Nasser, a doctor for the United States women's national gymnastics team and Michigan State University, was charged with 22 counts of child sexual abuse after decades of attacks on girls and young women. A report from the U.S. Department of Justice's Office of Inspector General concluded that "senior FBI field office officials in Indianapolis have not responded to Nasser's allegations with the utmost seriousness and urgency that they deserved and demanded". Between the first complaint to the FBI and Nasser's arrest, he assaulted at least 70 other girls.
In 2018, the Trump administration began separating children from their families at the US-Mexico border and housing them in chain-link pens. In the summer of 2021, the Biden administration's interagency task force on family reunification announced that it had reunited 36 families, a tiny proportion of the more than 5,600 children who had been separated from their families at the border. .
In 2020, 6,643 young people, aged 0 to 24, died by suicide. In a recent 60 minutes segment focused on children's mental health, an ER doctor said the average wait time to get an appointment with a therapist is 48 days — and for children, it's usually longer.
In 2021, homeless shelters housed 131,377 people who were part of a family with at least one adult and one child under the age of 18. In 2010, the United States Interagency Council on Homelessness announced its goal of ending youth homelessness by 2020 as part of its Opening Doors strategic plan, the first comprehensive strategy of its kind in the nation.
In many ways, from education to life expectancy, being born in America today offers many more opportunities for a happy life than at any other time and place in human history. But that does not negate the trauma that has plagued children over the past decade in communities urban and rural, red and blue, poor and rich. Nor does it excuse the uneven and unworthy response of leaders who are utterly indifferent to children, incompetent, or both.
The challenges underlying many of these issues are complex and difficult to solve. But these barbarisms are now more features than bugs. We simply cannot rely on top-down action because our leaders have proven unreliable in creating institutions that consistently keep children healthy and safe.
This is why now is the time to channel our collective shock, sadness, disappointment and fury into a new children's rights movement that seeks to reshape the contours of outdated politics and bring together fragmented interests under new and larger tents. To do this, this movement must be built on love – for, as Dr. Martin Luther King Jr. said, "Justice is truly love in reckoning. Justice is love which corrects what rebels against love.
This movement must be built on this moral foundation, and it cannot rely solely on the flag bearers of political and organizing power. New technologies, messages and institutions must emerge to energize this movement, created and led by young people and families.
This new movement must be prepared to engage in nonviolent protests, boycotts and targeted civil disobedience. It must couple these tools with evidence-based policymaking and emerging technologies for the sole purpose of upholding the inalienable rights of every American child.
Building a movement like this will be slow, expensive and difficult. But the price of inaction would be a most bitter and terrifying moral bankruptcy.