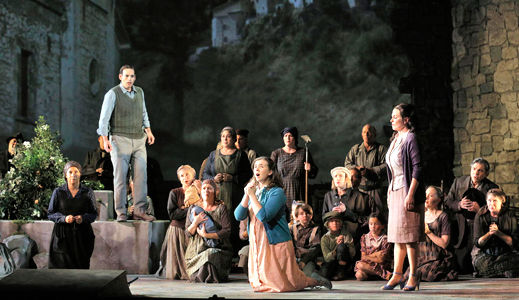 San Francisco opera house hits with "Two Women"
SAN FRANCISCO – The world premiere production of a new opera based on a 1958 novel by Alberto Moravia, which Vittorio De Sica adapted for cinema in 1960 as Two women, with Sophia Loren, won musical gold. A co-commission between the San Francisco Opera and the Teatro Regio di Torino, the opera house of the city of Turin, Two women received five performances in June (seen June 23) at the War Memorial Opera House. The entire production will be packaged and sent to Turin for its European premiere in 2018.
Italian composer Marco Tutino Two women is a step back in many ways. In the first place, it is the first Italian language opera to be commissioned in the United States from Giacomo Puccini La fanciulla del West (The Girl of the Golden West) made his Metropolitan Opera debut in 1910. Second, Tutino is stylistically lyrical and approachable, although he does not avoid the full range of Modernist colors available to him. Listening to his opera (sound 15e, by the way), one can imagine that's what a today's Puccini might write – musically expert and sophisticated, all while aiming (God forbid!) for popularity and acceptance.
And thirdly, its subject comes back to a well-known film, and the novel behind it by a great Italian writer, and the troubling period of 1943-45, when Italy passed from a fascist and allied state to the 'Axis under Benito Mussolini to a wartime battlefield involving Italian, German, American and French Moroccan forces, all struggling to gain the upper hand.
With its gritty, often dark and morally compromised setting, Two women is the latest opus of musical theater neorealism, itself a descendant of verism movement in opera best represented by works such as I pagliacci and Cavalleria rusticana. I remembered that at some point in American musical history, conservatory-trained composers like Kurt Weill, Leonard Bernstein, Marc Blitzstein, Virgil Thomson, Gian Carlo Menotti and others in the more popular tradition like Richard Rodgers , Jerome Kern, and Stephen Sondheim, saw their works premiered on Broadway, works that are now more often seen in opera. There is no sin in telling a good, effective story and inviting your audience to enjoy it.
Part of what makes opera work so well is the masterful source material. Novelist Alberto Moravia (1907-1990) lived through the Mussolini period, regularly got into trouble with censors and fled with other refugees to the rural area east of Rome called La Ciociaria at the end of the Second World War. This era led to the novel The ciociara (The wife of La Ciociaria). Although Moravia believed that the writer should "assume a moral position, a clearly conceived political, social and philosophical attitude", he did not subscribe to the binding principles of socialist realism. He was drawn to exploring the dark ambiguities of the human soul under stress.
Between 1959 and 1962, Moravia was president of the world association of writers, PEN International. Later, in the years 1984-89, Moravia represented the Italian Communist Party as a member of the European Parliament. Moravia is also well known for Bernardo Bertolucci's film adaptation of his novel about the fascist era, The conformist.
Two film montages, composed of contemporary news footage and lasting about five minutes each, precede Acts I and II of the opera, usefully providing a clear time frame for the action, which unfolds. in Rome, in the town of Fondi and in the small rural town. refugee community, Sant'Eufemia. They trace the movements of troops and the rapid evolution of the political situation on the ground. The melodic and neo-romantic score is punctuated frequently and appropriately by gunshots, bombs and explosions. Tutino incorporates regional folk and popular songs in the libretto, which he wrote with Fabio Ceresa, adapted from a screenplay by Luca Rossi.
Characters in Two women include the mother, Cesira (the role of Loren), given a knockout performance by one of today's opera superstars, the sultry dramatic soprano Anna Caterina Antonacci. Also, his daughter Rosetta (Sarah Shafer), a 16 year old teenager who grows a lot in two and a half hours, eventually becoming the second of the "two women". Michele, a top tenor, is a passionately committed young partisan (a Communist, no doubt), superbly portrayed by rising American Dimitri Pittas in his early years at the OFS. The other major character is Giovanni, sung by world famous baritone Mark Delavan; in this role, the creators combine all of the opportunism and cynicism of society, heightened during a war, with shifting forces under control every few weeks or months. Other small roles are treated with a perfect staging (by Francesca Zambello). And the choir of townspeople and villagers plays a huge role, masterfully led by Ian Robertson. OFS musical director Nicola Luisotti conducted.
Individual traits, as well as the general population, are subjected to excruciating tests, and few are entirely pure or evil. But with the Allied victory there is hope for a better future, showing that little in human character is truly independent of objective circumstances. Social conditions have an impact on action and behavior, even though essential human nature is subject to a wide range of moral responses.
In short, an unreserved triumph. I wish these Two women a long and happy life!
The final performance of Two Women is scheduled for Tuesday, June 30 at 7:30 p.m. at the opera house at 301 Van Ness Ave. (at Grove St.), San Francisco. For tickets and more information, visit sfopera.com or call (415) 864.3330. Standing Room tickets for $ 10 in cash will not go on sale until 10 a.m. on the day of the performance.
Photo: Prayer scene with choir
Dimitri Pittas as Michele, Sarah Shafer as Rosetta, Anna Caterina Antonacci as Cesira. © Cory Weaver / San Francisco Opera