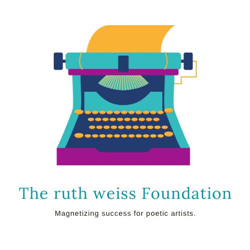 The Ruth Weiss Foundation is now accepting applications for the 2nd Annual Poetry Fellowship
"It was very important to Ruth to help other poets and artists, and we are honored to be able to pursue this dream and make it a reality through our annual grants."

SAN FRANCISCO (PRWEB)
July 19, 2022
As part of its mission to spread love and help poets and artists around the world, the Ruth Weiss Foundation today announced the 2-week countdown for poetic artists to submit nominations for its 2nd Annual Poetry Fellowship Program, offering $6,000 in prizes that seek works of verbal and stylistic originality. True to the theme of NATURE, grant applications for three poetry prizes are being accepted until August 1.
Since 2021, the Ruth Weiss Foundation has been committed to elevating and amplifying the voices of emerging writers in storytelling through its annual grants. Inspired by the life and legacy of renowned poet Ruth Weiss, the Foundation launched its annual grantmaking program to provide opportunities and support the work of poetic artists around the world.
"Ruth Weiss has championed the first steps of poets throughout her life, watching up-and-coming writers evolve and develop their craft, and discovering the new voices of the next generation," said Elisabeth Montgomery, President of the Foundation. Ruth Weiss. "The Foundation was inspired by Ruth Weiss, and we pursued her wish after her passing on July 31, 2020. Helping other poets and artists was very important to Ruth, and we are honored to be able to pursue this dream and actually do through our annual grants.
This year's NATURE theme reflects a devotion to the planet and a connection to biological ecology. Writers are encouraged to illuminate new ways of looking at environments and biomes around the world that directly influence people's economic, social, environmental, educational, and moral values ​​and behaviors.
Poets young and old are encouraged to submit nominations for three award categories, including Maverick, Emerging and Youth.

Maverick Poet Award – The Maverick Poet Award is open to all poets who embody the spirit of the maverick. Whether published or not, the spirit of Ruth Weiss is the epitome of the maverick. The award embodies a high degree of independence, often taking a non-conformist or unorthodox stance in thought and action.

Emerging Poets Awards – Whether just starting out or well on a writing journey, Emerging Poets include a wide range of writers who exude a passion for writing. ruth weiss has championed emerging poets throughout her long life as a season writer by watching others evolve.

Youth Poetry Prize – The Youth Poetry Prize is open to young writers under the age of 18 who have things to say that have never been said before, in a way that has never been seen previously. This award reflects a new battalion of teenagers who want to take poetry in new directions to adapt to a new world.
Grant applications are accepted through August 1, with final winners being announced during a virtual event at WriterCon 2022 in September. To apply for a 2022 Ruth Weiss Foundation grant, visit: https://www.ruthweissfoundation.org/.
The annual grant program also complements an award-winning documentary presented by the Foundation and directed by filmmaker Melody C. Miller titled "Ruth Weiss: The Beat Goddess Documentary," which not only documents Weiss' gift to humanity, but archives important historical moments in the social and literary movements of our world. Since its premiere in 2019, the film has received more than 20 awards, including Best Documentary at the Peekskill Film Festival in New York and the Visionary Women in Film Award at the Santa Cruz Film Festival.
In collaboration with the Beat Museum in San Francisco, "Ruth Weiss: The Beat Goddess Documentary" will tour with the Beat Museum on Wheels across the country to shed light on the electrifying and intimate poetry of Ruth Weiss. For more information on upcoming film screenings and the Beat Museum on Wheels tour, please visit https://www.ruthweissfilm.com/.
About the Ruth Weiss Foundation

Founded with a desire to spread love and help poets and artists, the Ruth Weiss Foundation is a 501(c)(3) nonprofit organization that honors the life and legacy of a famous poet. , author, performance artist, playwright, filmmaker, actress and activist ruth weiss. Its mission is to provide opportunities and support the work of poetic artists through its annual scholarship program. For more information, visit https://www.ruthweissfoundation.org/.
Share the article on social networks or by e-mail: