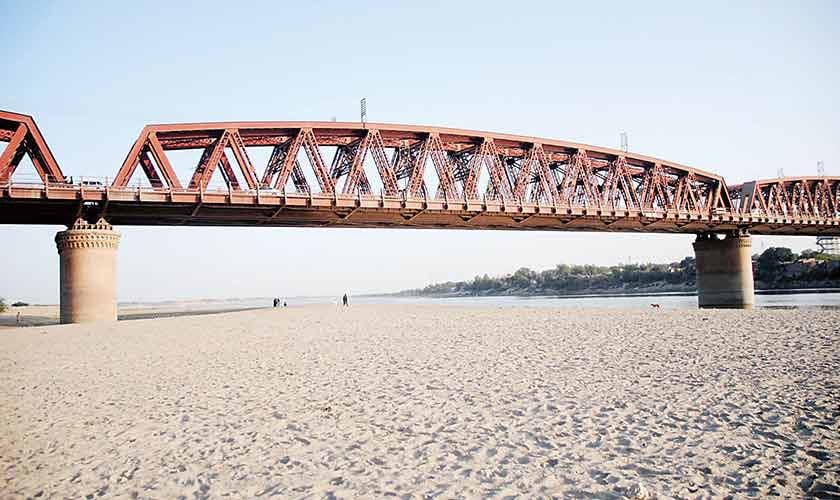 PAkistan is on the brink of drought, according to the Global Land Outlook report released recently by the United Nations Convention to Combat Desertification (UNCCD). It is among 23 countries in the world that are suffering from severe and prolonged drought conditions and, alarmingly, could become one of the top five water-scarce countries. The crucial consequence of the situation would be a serious food crisis threatening national economic security and could cause political unrest.
In fact, Pakistan has faced drought emergencies in the past couple of years due to many factors that have contributed to the situation. These include slower melting of glaciers and 26% less snowfall in 2021, a period of complete drought in March and April this year, recurrent heat waves, minimal water levels in large water reservoirs like Tarbela Dam and Mangla Dam, and depleted groundwater resources. On May 30, the Pakistan Meteorological Department had issued a severe drought warning in some districts of Balochistan, as mild drought conditions already prevailed in most of Sindh, southern Punjab and southern Khyber Pakhtunkhwa.
Its June 21-27 report indicates that despite intermittent rains, mild to moderate as well as moderate to severe drought conditions will continue to prevail in areas already affected by drought. The Indus River System Authority (IRSA) has also shown great concern about the current water situation following a total of 56% less water arriving in the rivers. Unfortunately, all past and present governments, both federal and provincial, have remained unresponsive and indifferent to the critical water crisis, failing to effectively and in a timely manner address this serious multidimensional problem. Today, per capita water availability is at the dangerous level of 908 cubic meters (cum) per year, down from 5,060 cum recorded in 1951.
It has become a matter of survival today, and the future scenario is bleak as Pakistan has shown no physical preparation to face the calamity. Pakistan adopted the 2030 Agenda for Sustainable Development Goals (SDGs) in 2016. According to the United Nations Sustainable Development Framework 2018-2022, Pakistan needs to develop medium-term strategic planning to achieve the goals. Solving the water problem is one of the main components of the framework, however, the government reports the current status (2021) as "the degree of integrated water resources management has increased from 50% (baseline 2017) at 56%", without any details, which means that there is no progress. Ironically, the government claims that "an improved drinking water source is available to 94% of the country's population". But the Pakistan Water Resources Research Council (PCRWR) admits that currently only 39% of the population has access to safe drinking water, while international experts estimate that Pakistanis have access to safe water within a range of 20-36%.
The Indus River and its tributaries receive an average annual inflow of, and thus provide surface water, at the level of 154 million acre-feet (MAF). About 72 percent of surface water is diverted to the irrigation system comprising dams and canals, while most of the remaining 28 percent is either wasted or lost to the sea due to water storage reservoirs inadequate. Furthermore, Pakistan uses more than 90% of its water resources in agriculture, compared to a global average of 70%, which has a considerable impact on its surface water resources. Apparently, Pakistan remains opposed to the adoption of modern technology driven irrigation systems such as gravity fed drip, underground drip and sprinkler systems which are very effective methods for irrigating crops and plants.
Large water storage tanks basically need to be built. The construction of a mega dam after every decade was planned in the 70s, but unfortunately not a single dam could be built in five decades. It was only under the previous government that the construction of the Mohmand Dam and the Diamer Basha Dam, with a combined storage capacity of more than 9 MAF, was started. Given the current state of slow progress on these projects, it is unlikely that these dams will be completed within the timeframes of December 2025 and August 2029, respectively. Here, the criminal negligence on the part of successive governments is crudely remembered for shelving the most feasible project of the Kalabagh Dam.
On the other hand, Pakistan has one of the largest aquifers in the world. The Indus River and its tributaries provide groundwater at an optimal 147 million acre-feet (MAF) per year, but are ranked as the second most-surcharged aquifer in the world. Unfortunately, Pakistan ranks fourth in terms of annual groundwater extraction to meet 70% of domestic freshwater reserves. In recent years, the use of groundwater has increased and currently up to 50 MAF of water are extracted from underground aquifers each year. Consequently, these aquifers are rapidly depleting, as there is virtually no regulatory framework for water conservation and aquifer recharge, in addition to waterlogging and contamination issues. Climate change brings extreme events of floods and droughts, which presents more challenges. At the initiative of the previous government, 1.5 billion trees have been planted against a program of 10 billion trees in total, which could help improve the situation in the long term.
According to the World Bank, "Groundwater has the potential to be the most reliable water resource for Pakistan, providing a buffer against the unpredictability of climate change and the failure of infrastructure designed to supply surface water. he groundwater aquifer in Pakistan's Indus Basin contains at least eight times the volume of fresh water contained in the country's three largest dams, so groundwater or groundwater in the Pakistani context plays a role in maintaining life. But too little and too late has been done by the government so far in this direction.
To improve governance in the water sector, the National Water Policy 2018 was announced with great fanfare, but it was not effectively implemented even after a lapse of five years. The policy emphasizes regulation of groundwater abstraction, artificial aquifer recharge measures and promotion of investment in groundwater recharge systems, but it has failed to translate these provisions into action . The fundamental principle of sustainability is to maintain the balance between groundwater extraction and recharge. However, the main recharge of the underground aquifer is associated with pluvial streams which do not help significantly.
There are various methods and techniques to conserve water by creating underground storage reservoirs through increasing the underground aquifer. These include the construction of underground dams and check dams, and the installation of wells and recharge wells and recharge wells. PCRWR has been working on rainwater harvesting and aquifer recharge projects for some time, but on a limited scale and mainly in Balochistan (outside the Indus Basin system). He successfully introduced a simple recharge technique of collecting rainwater and injecting it into the groundwater through a filtration system. A nationwide program to develop the sustainability of groundwater resources is the proverbial need of the hour. Recently, the Capital Development Authority adopted the PCRWR artificial groundwater recharge technique after launching a pilot project at seven potential sites, while a total of 100 sites will be developed for the installation of recharge wells in Islamabad.
As Pakistan observed World Desertification and Drought Day on June 16, the government simply issued a statement reiterating the need to work on improving drought preparedness and building drought resilience. , without taking concrete measures to achieve the objectives. In the face of growing water challenges, it is imperative that government – ​​and society – implement, as a priority, action plans to rehabilitate, conserve and wisely manage all land and water resources. Time is essential.
---
The writer is retired president of the State Engineering Corporation