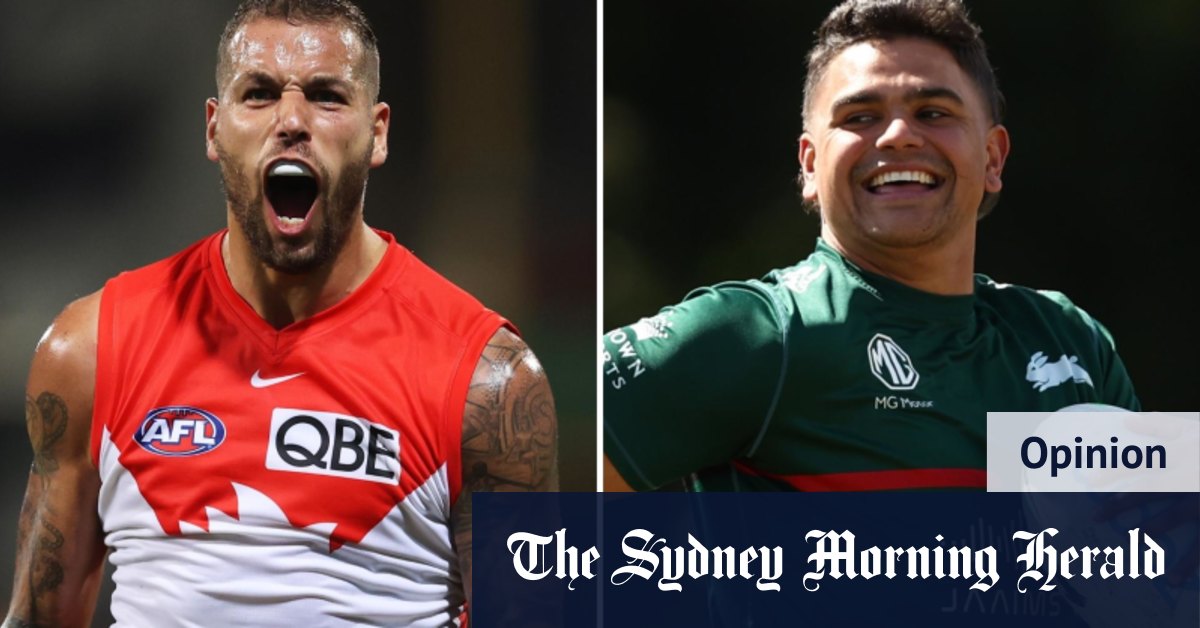 Why Lance Franklin and Latrell Mitchell are too much for some Aussies as sport reels of the Hawthorn racism scandal
You don't need to know anything about the league to appreciate Mitchell's silky touch, vision and creativity, not to mention his strength and agility. You can have a shameless man crush on Mitchell and never be a Rabbitohs fan. He transforms every game he plays, and if he's not the best in an NRL period rich in great players, he's close, and there aren't many you'd call artists. Mitchell outshines everyone for his chutzpah and talent for making rugby league beautiful.
Which must never leave Mitchell's personal courage aside. Moments after Souths knocked out the Roosters from this year's final, Mitchell looked around at the cat-calling crowd and said, "F—off, f—off, f—off , f — off." He could have spoken for 15 of the 16 NRL subscribers.
Here we come to the hard part. Mitchell had been abused by Roosters fans for two weeks. Maybe it was for his really bad head-high swipe at Joseph Manu in 2021, or maybe it was because he left them for their No. 1 foes. But AFL fans have always excused their boos of Adam Goodes by calling them "respect" for an opponent or "justice" for his supposed set-piece free-kicks. Goodes was the only player booed for these reasons, and only Mitchell faced such direct personal abuse in the NRL. Who could seriously deny the player's own statement that this abuse included and was motivated by racial overtones?
Celebration comes easily because these Indigenous stars are undisputed giants of the sports we love. Celebrating is even easier as it costs us non-Indigenous Australians precisely nothing. In fact, celebration, like the Indigenous rounds of the codes and so much ostentatious goodwill toward First Nations peoples, could have a counterproductive effect as they allow us to congratulate ourselves on our spirit of inclusion and reassure ourselves that we are good people. because our favorite players are indigenous. Few things are asked of us. We point out our virtue on the big day, at the footy, and then we go back to ordinary life knowing that we are good anti-racist people.
The long history of racial discrimination in Australian sport, highlighted again this week by the harrowing – depressing – episodes allegedly involving Hawthorn's treatment of its Indigenous players, has shown little sign of abating as we calm down with aboriginal jerseys, welcome to the country, apologies and statues of Nicky Winmar. In other words, doing all the easy part didn't do much to address the hard part.
The hard part is getting professional clubs to live up to their rhetoric of treating their players – regardless of race – as human beings. Hawthorn's allegations echo those of Adelaide and Collingwood to the point where we can call this treatment of Indigenous players institutional. Institutional change is so much more difficult than symbolic. The hardest part is understanding and helping players balance their professional and private lives, not just tearing them away from their families to reward them with the "bounties" of non-native culture. That's what Australia was doing. If he does it again, it shows how difficult real change can be.
The most difficult thing for these clubs is to recognize goals that are more important than winning.
The hard part is kicking out any spectators who racially abuse the players. I know sports and sites say they do, but they don't. You can attend Souths and Swans games this weekend and hear racially motivated abuse against Latrell Mitchell and Lance Franklin. Two proud men who behave like leaders are just too much for some to handle.
The easy part is believing that the signage saying racism has no place is doing all the work; the easy part is to leave the confrontation to someone else. The hardest thing for the non-Aboriginal majority is to really turn around and question our complicity. The hardest part is to honestly ask if we love players like Franklin and Mitchell so much, not as a rejection of racism, but rather as an admission of guilt, not a new beginning but in some subterranean way tied to the history of this country. The question cannot be evaded.
Loading
For the AFL and NRL, the strides in developing and showcasing indigenous talent have been so significant that they have blinded many to what lies beneath the surface. Clubs, fans and institutions continue to treat players like cattle, like commodified stock.
Commentators continue to praise native players as possessing some sort of mystical "instinct", believing they are giving compliments without realizing how close they are to ideas better recorded in the distant past. Entire sports communities will rally around symbols of Indigenous pride and superlative competitors this weekend, rejoicing in all things easy. Then the curtain comes down, the clubs retreat into their off-season shadows, and the ugly stuff, so ingrained in Australian culture that it's invisible, cries out for recognition again. Every time we do something easy, it is a difficult task that remains unfinished. Until these issues are addressed and resolved, we will continue to be shocked by what has allegedly happened at Hawthorn and the other clubs, and we will continue to wonder why, when we are so good, we continue to cause so much harm. .
Sports news, results and expert commentary. Subscribe to our Sports newsletter.