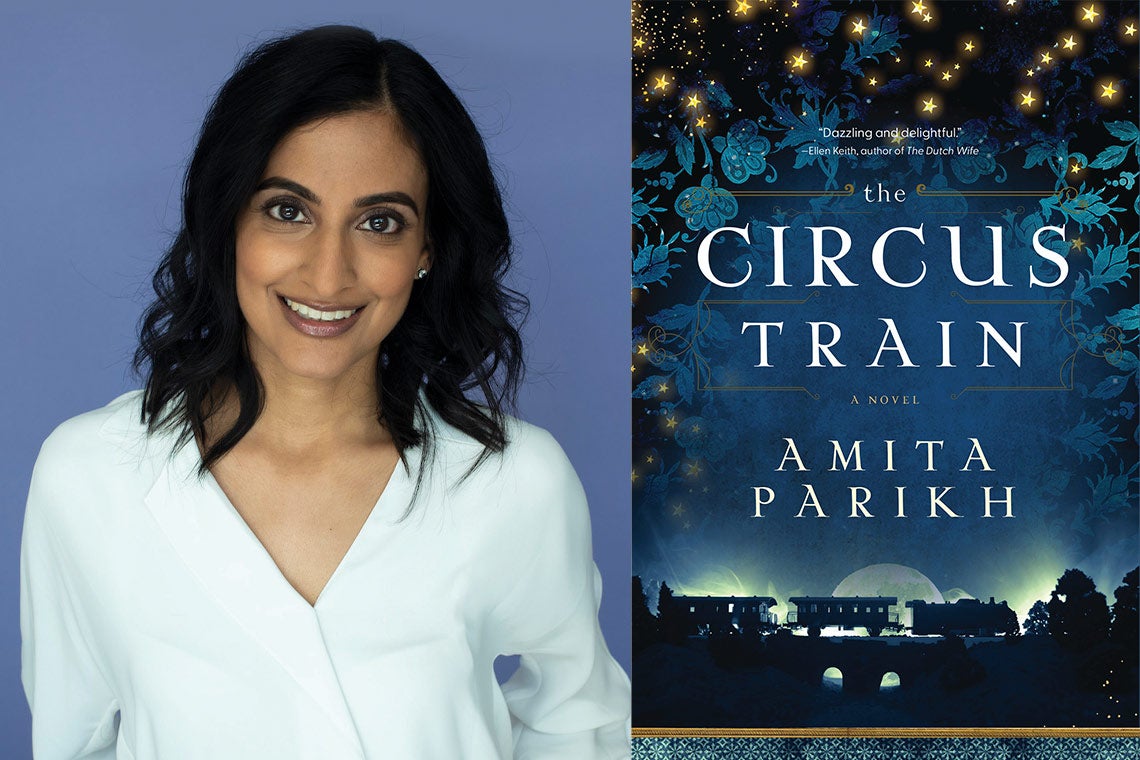 With her bestselling debut novel, Tal University graduate Amita Parikh aims to help underrepresented writers
Amita Parikh was a fellow of Victoria College when she was a student at the University of Toronto – as was the acclaimed author Margaret Atwood.
Now Parikh has something else in common with Atwood: a novel about Toronto Star List of best-selling books in Canada.
"I definitely don't put myself in the same business, but it makes me laugh thinking about it. I couldn't have predicted that I would write a book, much less a bestselling book," says Parikh, who graduated with a Bachelor of Science degree from the Faculty of Arts and Science at the University of Toronto in 2006 with a major in human biology and minors in Spanish. and zoology.
The circus train tells the story of Lena Papadopoulos, the daughter of an illusionist in Wonder World, a traveling circus that toured Europe during World War II. Fascinated by science, Lena feels out of place at the circus – until her life changes when she saves a mysterious stowaway.
The circus train was published by HarperCollins Canada in March 2022 and became an instant national bestseller.
"Lena's love of science and medicine is largely a result of my studies at U of T," says Parikh. "I learned and was exposed to so many things. I remember in one of my biology labs, we isolated DNA in its purest form, and I thought it was so cool.
There are several links to the U of T throughout the novel. For example, Lena's visits to anatomy museums were inspired by Parikh's time at Grant's Museum in the basement of the University of Toronto's Medical Sciences Building. Lena has polio and uses a wheelchair, an aspect of the text informed by Parikh's studies of how the polio vaccine was developed and how the virus affected children.
Lena's feelings of isolation were also inspired by the author's experiences. As a student of life sciences, many of Parikh's classmates were studying to become doctors or go on to college, but neither of these career paths seemed suitable.
"I felt so out of place and alone, like I had somehow failed," she says. "But looking back, I'm really proud that I stuck it out and finished, and I'm very proud to say that I graduated from the University of Toronto."
Parikh decided to figure out what she really wanted to do and follow her passion. As a student, she loved to write for the university, so she pursued journalism after her call. After a few years, she switched to the technology industry and moved to Europe to pursue a career as a marketer and web developer. In 2014, she returned to writing – this time creative writing instead of journalism. She began writing what she hoped would one day become a book and enrolled in an evening writing class. His first novel is the result.
"People say, 'This is so weird. You studied science and you work in technology, but you write creatively," she says. "I actually think they're so similar. To find solutions to the biggest problems we have, you have to be really creative. You must be creative in coding in technology. In science, how do you find a vaccine? You have to think on another level. »
The circus train will be published in the US in December 2022 by GP Putnam's Sons and in the UK in January 2023 by Little, Brown Book Group.
"I'm still trying to figure it out," Parikh says, referring to the success of the novel. "It was not something I expected. I just wanted to write a book and stay true to myself and create a world that people enjoy. Everything else was just icing on the cake. I'm glad it touched so many people.
Between working in tech and writing her second novel, free time is in short supply for Parikh. Yet, when she can, she likes to give back by mentoring budding writers. She is also developing a scholarship for underrepresented writers.
"I'm often asked, usually by other people of color, 'What has your experience been like as a writer of color?' Those conversations came to the fore, as they should," she says. "Publishing is a very white industry. no pushback. No one said to me, 'What are you doing here? You're the wrong color. But I'm aware that it happens.'
Her editing experience has been encouraging, she adds, recalling a conversation with her agent in which Parikh suggested using a pseudonym.
"I had been conditioned for so long to see books written by Indian authors only about the immigrant experience or an Indian-inspired romantic comedy. I'm generalizing, but basically that's what I was reading. And even though I love to read these kinds of stories, I can't write them. My agent told me, "Things are changing and you should be so proud of what you've done." You shouldn't feel like you let down your community because you chose not to write about your own cultural background. You are a fiction writer. You can write whatever you want.
The Parikh scholarship will aim to alleviate the high cost of writing courses and increase access to these educational opportunities for underrepresented writers.
"Even though I haven't been rejected by publishers, I am aware that it happens. I got lucky and just wanted to give a little head start. I just think we're better off when there's more diversity all around.